Understanding Fire Protection Ratings
Liberty Safes are Top-Rated for Fire Protection
One of the top reasons people choose to purchase Liberty gun safes is for the fire protection they offer. We are proud to have been building the best safes in the industry for over 30 years. Liberty gun safes are designed to provide their owners with the utmost security and fire resistance. Depending on the model you choose, you get anywhere from 30 minutes to 2.5 hours of fire resistance for your firearms and valuables. If you are shopping for a safe, here some things we think you should know about safe fire protection.
It's not enough to slap a sticker on a safe and claim it offers so many minutes of fire protection. Unfortunately, safe fire ratings are not regulated, so manufacturers can (and do) make claims which their safes cannot always live up to. Here's a few things you should know about safe fire protection ratings.
You might wonder why Liberty safes are rated as being able to stand up to 1200 degrees while others claim to withstand 1400 degrees. This could lead you to believe that a Liberty Safe does not offer as much safe fire protections as those other safes do. And this is exactly what the manufacturers of those safes want you to believe. But we have proof, including an example of a Liberty Safe outperforming another brand during a California wildfire.
Unlike some manufacturers, we focus not only on fire temperatures when calculating fire protection, but also BTU ratings. The calculation of our BTU ratings is a result of adding together the total BTUs from the safe's multiple fireboard layers and the total BTUs based on the thickness of the steel used to construct the safe's walls, ceiling and door. When you view the fire-rating stickers on Liberty gun safes, you will not only see how many minutes of safe fire protection but also how many BTUs of 1200 degree heat our safes can withstand.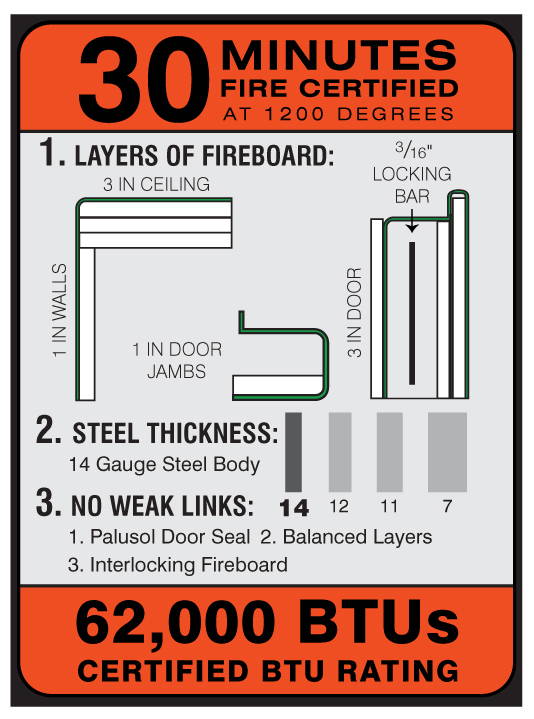 Liberty Safe Models:
Centurion, Tactical 20, Private 20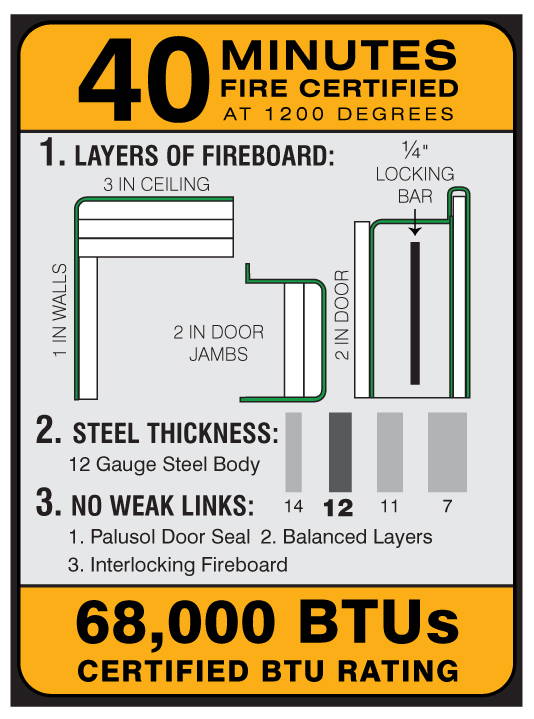 Liberty Safe Model:
USA Series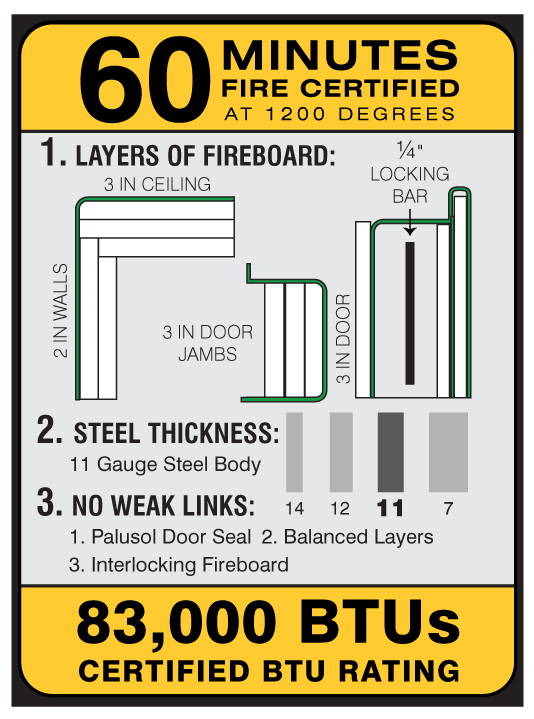 Liberty Safe Models:
Home Safe Series, 1776, Colonial, Colonial Xtreme, Fatboy Jr, Fatboy Jr Xtreme
Liberty Safe Models:
Premium 20, Fatboy, Fatboy Xtreme, Franklin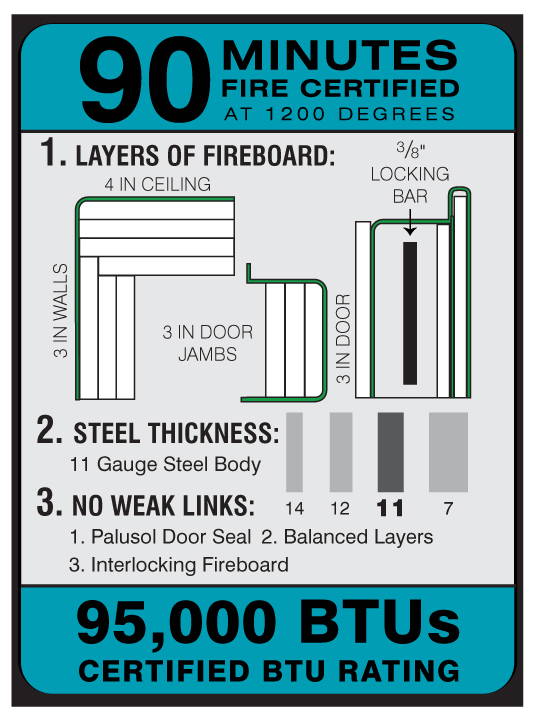 Liberty Safe Models:
Premium Home Series, Lincoln, National Security Select
Liberty Safe Model:
National Security Plus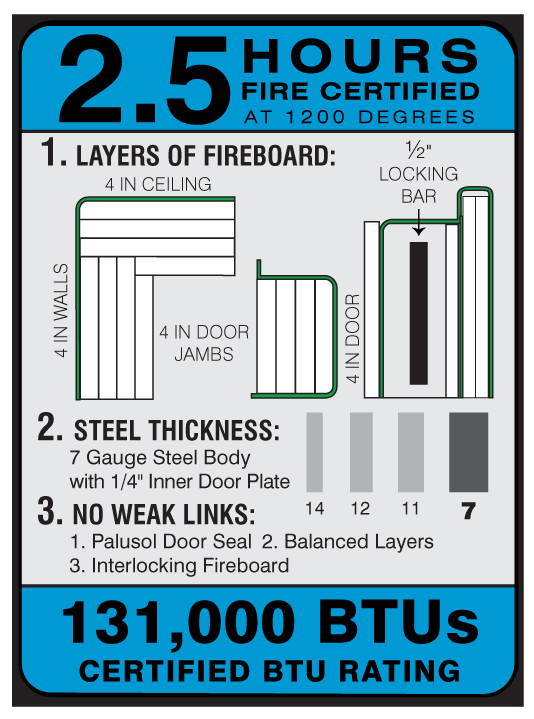 Liberty Safe Model:
Presidential, Nation Security Magnum
How Much Fire Protection Do I Need?
You don't want to think about the possibility of your home going up in flames. But home fires happen all the time. When trying to determine how much safe fire protection you need, you need to consider your risks for a fire:
Do you live in a fire-prone area where wildfires seem to occur on a frequent basis?

Do you live in a rural area where, if you're away, it might take hours before a home fire is discovered?

Do you live in an older home that does not have the benefits of improved, flame-retardant building materials?

Is your home heated with a fireplace or wood-burning stove?

 
With the rise of serious wildfires across the United States, gun safe owners and potential owners are now wondering how much safe fire protection they need. If you have advance warning that a fire is imminent, making sure your family, pets or livestock are transported to safety is critical. Trying to move your firearms could be the least of your concerns. Still, it's always a good idea to remove your firearms, valuables and important documents from your home if threatened by fire.
There is documented proof of Liberty safes surviving California's Carr, Atlas fires and an Arkansas home garage fire. In the Carr fire, the owner of a Liberty Presidential Safe was shocked to see his safe was still intact, but even more surprised the contents inside had been protected from the fire, including treasured family heirlooms, family photobooks, and firearms.
If you need superior safe fire protection and security, research Liberty Safe's top-of-the-line Presidential series of gun safes. This safe series features the best of Liberty's trifecta of fire resistant features, including:
Thick 7-gauge steel construction with 6"-thick door

Expanding V-seal Palusol® door seal and half-inch locking bars on all 4 door sides

4 layers of fire-rated fireboard in walls, ceiling, door and doorjambs

 
With these safe protective features, a Presidential safe can protect its contents for a minimum of 2.5 hours at 1200 degrees or 131,000 BTUs of red hot heat.
But what if you don't need the ultimate in fire protection? Liberty Safe has a wide variety of safes rated from 30 minutes of fire protection all the way up to the Presidential's 2.5 hours of protection. You'll stay within your budget and get the protection you want.
Ratings Based Off Government Testing
Liberty Safe takes fire testing seriously: In fact, so seriously that we base our fire testing on standards that have been developed according to research conducted through the efforts of the U.S. Department of Commerce National Institute of Standards and Technology (NIST) for a "full-scale house fire." During NIST's joint study with the ATF, U.S. Fire Administration, National Fire Protection Association and American Re-Insurance, temperatures were recorded to show what exactly goes on during the first minutes of an intense home fire.
When Liberty certifies our safes for fire protection, we rely on furnace testing. We ramp the furnace temperature up to 1200 degrees during the first 10 minutes of the test. Why? Because the NIST test has shown that fire temperatures hit 1200 degrees during the initial moments of a fire. Meanwhile, many other safe manufacturers skew their furnace test results by slowing their 1200 ramp-up to 20-30 minutes. They do this to make it appear that their safes can withstand the heat of fire for a longer period of time. Don't let the results from other manufacturers' furnace fire tests fool you.
Fire Resistance Depends on Three Key Features
A chain is only as strong as its weakest link. The same holds true for a safe's fire protective features. To build a superior fire-resistant safe, you need three key features:
Multiple layers of fire-rated board for insulation throughout the safe, including walls, door, ceiling and door jambs. These layers should be interlinked to prevent any gaps that can allow fire or hot air to reach the contents of the safe.
Thick steel bodies with minimal welds. The thicker, the better when it comes to the steel used to construct a fire-resistant safe. Ideally, the safe should have minimal welds to prevent and potential areas where heat or smoke can seep into the safe.
No weak links, like cheap door seals. A superior, fire-resistant safe needs to have a superior door seal that keeps heat, fire and smoke out. All full-size Liberty gun safes feature a heat-activated, expanding Palusol® door seal.
Importance of Fire Rated Drywall
When it comes to fireboard installation, regular drywall (sheetrock) will not do. While some manufacturers will use common gypsum board as a barrier for heat and fire, Liberty does not. Instead, we use multiple layers of 5/8-inch thick fire-rated drywall for safe fire protection. Yes, regular drywall does have some fire-resistance due to its gypsum core and its natural fire-resistant qualities. However, the gypsum core in fire-rated drywall is specially reinforced with glass fiber and other additives to boost its fire-resistance.
When shopping for a fire-resistant safe, you should always ask about the type of fire-board used in building the safe. Fire-rated drywall will feature a UL mark on its backing. Make sure to avoid safes that could be constructed with cheap Chinese drywall that has been cited as a health hazard by the Centers for Disease Control (CDC). This drywall often contains dangerous compounds, including strontium and sulfur that can corrode your safe's steel and compromise both its fire-resistance and burglary resistance.
Optimal Location for Best Fire Protection
It is pretty easy to pinpoint which areas of your home where there is more of a potential for a fire to occur. If you have a fireplace, right off the bat you should avoid putting your safe in close proximity of it. If you want to show off your safe in the same room of your fireplace, at least put it as far away from it as possible.
Every house has a kitchen, and this room is one of the most prone to having a fire. When considering safe fire protection, the best practice is to locate your safe in a room other than your kitchen or one that is right next to it. But did you know that putting your safe in a room above or below your kitchen is not a good idea either? If your kitchen catches fire, the room above could collapse and bring your safe along with it. And with the room below the kitchen, there is a risk of the kitchen collapsing and water damage from firefighters.
The garage is another area of your home that has an elevated risk of catching on fire. Chances are you have a lawn mower and other yard equipment that uses gasoline, which could be stored in your garage. Then there could also be different chemicals, like paint thinners, cleaners or fertilizers that are extremely flammable. This makes your garage not an ideal place for your safe either.
The safest place in your home to make the most of your safe's fire protection features is a room that is on a concrete slab. However, not all homes are built on a concrete slab. The next best place is to have your safe on the first floor of your home if you have a crawl space or basement. However, keep in mind to keep your safe as far away from your kitchen, garage and fireplace as possible.